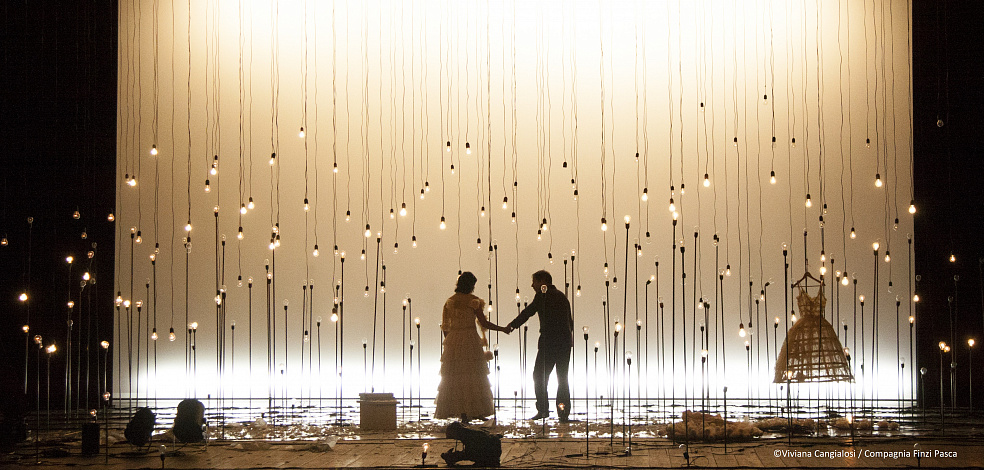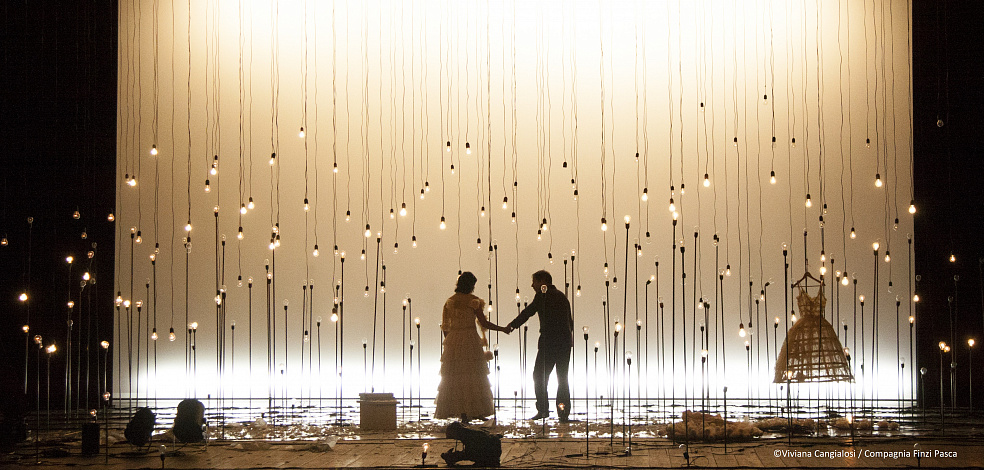 Compagnia Finzi Pasca (Switzerland)
Written and directed by Daniele Finzi Pasca
Bianco su Bianco is a story of the relationship of an actress and a stage worker, inimitably related by Daniele Finzi Pasca. It is a blend of drama and circus, light, graceful, with attention to detail, and full of surprises. In this show, as in life itself, tragedy goes along with comedy. A serious story of childhood injuries, cruelty of parents, loneliness and injustice is interrupted by clownery, and leads to a discovery – people are laughing and crying for the same reasons.
The title of this show contains the image of the theatre, a fragile and momentary art, which leaves no trace but in our memories and in our souls. It is as if the actors are writing with white ink on white paper. Moreover, white is the colour which plays one of the principal roles in every production by Finzi Pasca: "Our clownery is as white as wheat flour, as white as burnt coal, as white as a scratch we get in falling off a bike. Our clownery is white on white, as the angels in Corteo, as the icy chandelier broken to pieces in Donka, as the cupboard wherefrom Icaro escapes, as the ball chased around by everyone during showers in the Rain, as the backlit atmosphere in the Fog, as the mints in La Verità".
The famous director, clown, choreographer and actor, who staged productions for Cirque du Soleil and the Olympic Ceremonies of Torino and Sochi, repeatedly took part in the Chekhov Festival. This partnership gave birth to the brilliant Donka – A Letter to Chekhov, which was Finzi Pasca's present for the great writer's 150th anniversary in 2010.


Performance gallery
5 photo